Pettinato Children's Dentistry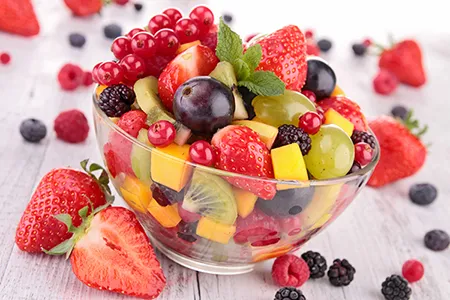 Pediatric Dentistry located in Wesley Chapel, FL
Diet and oral hygiene go hand in hand since many of the foods and beverages your child enjoys can affect their teeth. But with the dedicated team of pediatric professionals available at Pettinato Children's Dentistry in Wesley Chapel, Florida, you and your child can learn everything you need to know about keeping teeth healthy and improving oral health. Learn more about diet and oral hygiene counseling by booking an appointment online, or by calling to speak with a team member directly.
Diet and Oral Hygiene Q & A
Why are diet and oral hygiene important?
Teeth are very durable bony structures, but because they're prone to decay, it's important to teach your child what to eat and drink—and what to avoid—to keep their teeth, gums, and bones healthy. Proper diet and oral hygiene are essential to:
Prevent decay and cavities
Provide nutrients for tooth development
Minimize damage, including fractures
The sooner you get your child started on proper diet and good oral hygiene habits, the more likely they are to have a lifetime of optimal oral health with few to no cavities.
How can a dentist help my child improve their oral hygiene?
When you visit Pettinato Children's Dentistry for a diet and oral hygiene counseling session, your dedicated pediatric dentist sits and talks with you about your child's diet and daily routine. They make suggestions and teach you about ways you can help your child preserve their oral health.
Your dentist may recommend:
Limiting soft drink or juice intakes to minimize the risk of decay
Serving plenty of fresh fruits and veggies (they act as natural scrubbers)
Providing calcium-rich dairy foods to promote strong teeth
For infants, it's important to encourage drinking from a cup—not a sippy cup—by their first birthday to prevent abnormal teeth development and crooked teeth. These are just some of the helpful tips your dentist at Pettinato Children's Dentistry teaches you about during your appointment.
When should I talk to my child about diet and oral hygiene?
It's never too soon to get your little one started on healthful diet choices and good oral hygiene habits. Your child should visit Pettinato Children's Dentistry for their very first dental exam around the time their first tooth erupts and no later than their first birthday.
During your visit with your pediatric dentist, they teach you about age-appropriate things you can do for your child and even show your child how to brush and floss properly.
Learn more about the importance of diet and oral hygiene by booking a pediatric exam at Pettinato Children's Dentistry today. You can schedule either online or over the phone.