Pettinato Children's Dentistry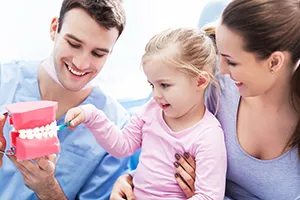 Pediatric Dentistry located in Wesley Chapel, FL
Tooth decay is one of the most common childhood health problems in the United States—at any given time, one in five grade-schoolers has at least one untreated dental cavity. To help reduce your child's cavity risk by up to 80%, the proactive pediatric dentists at Pettinato Children's Dentistry provide protective dental sealants for hard-to-brush molars. To schedule your child's next appointment with Dr. Pettinato's office call their Wesley Chapel, Florida, office or book online today.
Sealants Q & A
What are sealants?
Helping your child develop great oral hygiene habits is one of the best ways to reduce their cavity risk. But even if proper brushing and flossing do a relatively good job of removing food particles, liquid residues, plaque, and bacteria from the smooth sides of your child's teeth, a toothbrush can't always reach the deeper depressions along the bite surface of each molar.
Dental sealants are durable protective barriers made from a clear, ultra-thin plastic. When applied to the chewing surfaces of molars and premolars in the back of your child's mouth, sealants shield the area from plaque and bacteria, the two main catalysts of tooth decay.
When should my child get sealants?
Sealants are only applied to the bite surfaces of molars and premolars. Whenever possible, your child should receive sealants soon after these teeth have fully erupted, before they're affected by plaque buildup, bacteria, and decay.
Most kids receive their first sealants around the age of six, which is typically when their first set of molars come in. Their second sealant application occurs around the age of 12 when their second set of molars appears.
How are sealants applied?
Sealant application is an easy and painless process that takes place at the end of a routine cleaning and exam. After your child's teeth have been cleaned and polished, their dentist at Pettinato Children's Dentistry applies a special gel to the chewing surfaces of the teeth that are being treated.
After letting it sit for a few seconds, they gently rinse the gel off, dry the teeth, and paint the liquid sealant on each intended bite surface with a tiny brush. Finally, they shine a special light on each sealant-coated tooth to promote a quick cure or hardening. It takes about one minute for a sealant to form a long-lasting protective shield.
How effective are sealants?
Four out of five cavities in children occur in the crevices and grooves of their molars. Applying sealants to those cavity-prone areas can reduce your child's risk of tooth decay by as much as 80%.
Choosing to forgo the treatment, however, can drastically increase your child's cavity risk—school-age children without sealants have almost three times as many cavities as children with sealants.
But even though sealants are highly effective at keeping plaque, bacteria, and decay away from the bite surfaces of your child's back teeth, these surfaces still require adequate brushing to keep decay at bay.
To learn more about the benefits of sealants, call Pettinato Children's Dentistry at (813) 907-3100
or schedule an appointment online today.